An ISO 9001 : 2008 Certified Company
+91-98 1035 3646, 98 1008 7230
Extruded Fluoropolymer insulated Wires and Cables

GEEKORE® is one of very few manufacturers of extruded fluoropolymer wires and cables in India who provides all range of fluoropolymer insulated wire and cables included extruded wires. Major reasons behind introducing extrusion technology are:
Longer life; wrapped material is having poor abrasion resistance at wrapping edges. Hence it is less popular in outbox applications than extruded wires.
Extruded fluoropolymer provides higher breakdown voltage because of lesser air voids in comparison to wrapped material.
Extruded fluoropolymers gives superior appearance and finishing.
Extruded fluoropolymer is having higher mechanical strength.
Wrapped material being sintered at 380 Deg C and at this temperature tin get blacken. Hence, tinned copper is not recommended with wrapped PTFE insulation. Extruded fluoropolymer can be used with tinned copper conductor also.
However, wrapped PTFE is still in existence because it is easily available at economic prices and with lesser quantity. And the major constraint with Extruded fluoropolymer is only feasible with round construction of conductor. But, we recommend our valued customers to go for extruded material to make their product with world class quality. Available insulations in extruded fluoro-polymers are:
| Parameter | FEP | ETFE | PFA |
| --- | --- | --- | --- |
| Full Chemical Name | Flouro ethylene propylene | Ethyl tetra fluoro ethylene | Per fluoro alcoxy |
| Rated max temperature | -60 to 200 deg C | -60 to 150 deg C | -200 to 250 deg C |
| Break down Voltage (BDV), kV/mm | 40 | 40 | 40 |
| Insulation resistance (MΩxkm) | 35000-38000 | 35000-38000 | 35000-38000 |
| Flame resistance | Excellent | Excellent | Excellent |
| Tensile Strength, N/mm2 | 25 | 25 | 25 |
| Elongation at break, % | 350 | 350 | 350 |
| Abrasion resistance | Excellent | Excellent | Excellent |
| Water Absorption | Excellent | Excellent | Excellent |
| Weather Resistance | Excellent | Excellent | Excellent |
| Mineral Oil resistance | Average | Excellent | Average |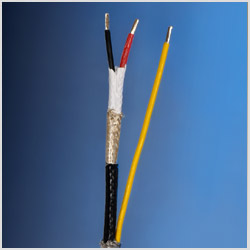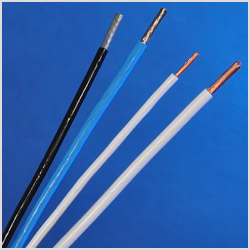 Scroll