An ISO 9001 : 2008 Certified Company
+91-98 1035 3646, 98 1008 7230
Wrapped PTFE Insulated Wire and Cables

GEEKORE manufactures premium quality of wires and cables insulated by tape wrapped PTFE qualifying JSS 51034 and JSS 51038 with excellent performance within the specified diameter and weight. In various applications of wires and cables, high temperature wires like wrapped PTFE insulated are into existence due their un- beatable properties described below:
Extremely higher insulation resistance, more than 2000 MΩxkm
Covers wide temperature range, -200 deg C to +250 deg C continuous
Resistant to UV radiations and stress cracking.
Inert to most chemicals and fluids even at high temperature and pressure.
Immune to ageing, fungus and water absorption (<0.01%)
Excellent dielectric withstanding capabilities and superior current rating.
Above unique properties of wrapped PTFE insulated wires, make it suitable for below applications:
Radar and Airborne applications.
Electronic test equipments
Research equipment for aerospace.
High performance motors, transformer and rectifiers.
Furnace and oven wiring
High temperature lighting fixture (like LED fixtures)
High temperature control valves
Refrigeration equipment
Chemical industries
Constructional details for equipment wires
Conductor: Electrolytic grade, soft and annealed copper being used with PTFE insulation shall be either plated with silver confirming to ASTM B 298 for soldering application and higher conductivity or with Nickel confirming to ASTM B 355 for higher temperature.
Insulation: by Tape wrapped PTFE confirming to JSS 51034.
Constructional details for Multicore Cables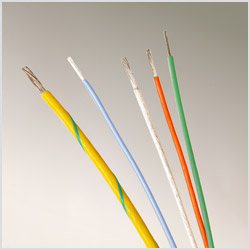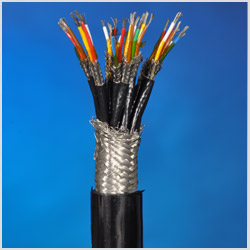 Scroll