An ISO 9001 : 2008 Certified Company
+91-98 1035 3646, 98 1008 7230
In concrete Heating Cables

For snow melting
GEEKORE® make In-concrete heating (ICH) cables are designed and manufacturer to facilitate the customer for long term reliability and performance, ease in connection and wide range of temperature. Cables being categorized as per customer budget or required performance as Classic or Premium.
Features of cables are:
Mechanically tough and abrasion resistance.
Uniform heating.
Optimum flexibility for ease in connection.
Wide temperature range.
Flame retardant and low smoke.
Protection category IPx7.
Construction
Conductor: Multi-strand, High strength alloys with wattage of 30W/mtr
Insulation: Cross link PE with classic type ICH cables and fluropolymer for premium type ICH cables.
Screening: annealed copper braiding with 80% coverage
Outer sheath: Flame retardant, Low smoke PVC with high abrasion resistance.
Single Core In Concrete Heaters (ICH)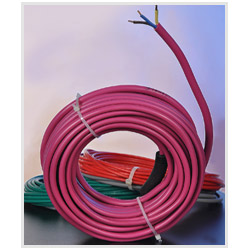 Scroll